Osotspa Announces Q1/ 2019 Operating Results, Gaining Net Profit of 888 MB and Preparing to Launch New Products and Expand Production Capacity.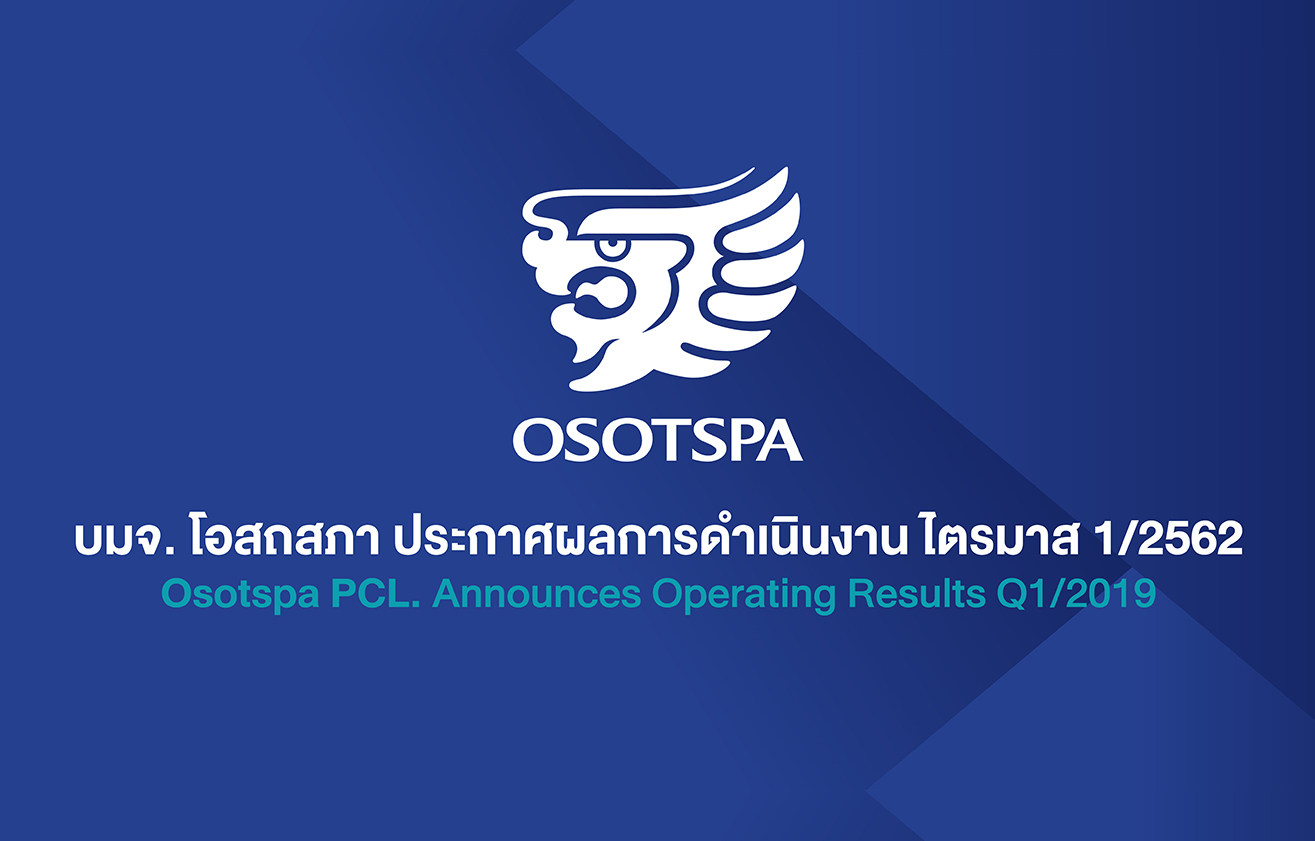 Osotspa PCL. (OSP) discloses Q1/2019 net profit of 888 MB, an increase of 13.4% y-o-y, due to effective cost management and growing sales of all product categories. The company also plans to launch new products and increase production capacity to support the company's business expansion.

Mr. Petch Osathanugrah, Chairman of the Executive Committee and CEO of Osotspa PCL., a leading Thailand-based consumer products manufacturer and distributor, revealed a 1/2019 net profit of 888 MB or 14%, an increase of 13.4% y-o-y, due to a multi-brand portfolio strategy and the Fitness First project, an initiative of cost management.

Osotspa saw 4% growth in its non-alcoholic beverage category in the Thai market, largely due to its herbal energy drinks such as Som In Sum and Chalarm Black Galingale whereas functional drinks C-Vitt achieved 149% sales growth y-o-y. With added supplements that are beneficial to the functioning of the eyes, Peptein Plus, a new variance of Peptein, was launched in the first quarter and has gained good feedback.

For the personal care category, Twelve Plus achieved a 26.6% rise in net profit mainly due to Twelve Plus menthol talcum and Twelve Plus Perfume Mist. Babi Mild successfully launched a marketing campaign "Fragrance Challenge of the No.1 Baby Product Brand." Exit's net profit increased by 22.3% y-o-y due to its successful collaboration with the Thai idol girl group BNK48. The revenue of the original equipment manufacturing (OEM) business grew 44.5% y-o-y after reopening its glass melting furnace in May last year.

Mr. Petch added, "We are pleased with the operation results of this year's first quarter with increased revenue and net profit, showing that our company has a strong competitive edge in the Thai market and Southeast Asia markets. We see strong growth potential in Myanmar, Laos, Cambodia, and Indonesia (at constant FX). In Q2/2019, the company focuses on better managing costs while implementing marketing activities to boost sales, launching new product, and increasing production capacity to support business expansion in both domestic and international markets."

In the second quarter, Osotspa will continue to launch marketing campaigns responding to consumer needs such as M-Point campaign, a point collection via Line application, and to introduce new products, such as new C-Vitt in carton packaging to new market and target group as the beverages for people of all ages.

To support its business expansion, Osotspa recently held a brick laying ceremony for its new glass melting furnace at the Rojana Industrial Park in Ayutthaya, an addition to its current glass production base. The glass production facility will be equipped and operated by world-class technologies which will help the company manage costs more effectively due to its capability to produce thinner, light-weight glass bottles. The production facility is expected to be in operation later this year. The new beverage production factory in the Thilawa Special Economic Zone in Yangon, Myanmar, is on track and is expected to open at the end of this year.